Multi-SBIR/STTR Awardee Shares Insights
QATCH Technologies, founded by Dr. Zehra Parlak in 2016, is leveraging its Duke-originated sensor technology to change how drug formulations are developed. The Durham-based company consists of a team of six engineers and scientists. Its innovative sensor technology marries microfluidics with acoustic resonators to serve the viscosity measurement needs of the biopharma industry.
QATCH's one-use viscosity sensor technology, the nanovisQ™, provides detailed information on developability and injectability of biopharmaceutical formulations by using a small drop of formulation, just 5 microliters, in 5 minutes. This is in-contrast to existing viscometer technologies that are slow and use high-volume sample sizes. In the early stages of formulation, large volume sample sizes are not available and can remain very costly even at later stages of preclinical development.
Widespread adoption of QATCH's nanovisQ™ in the biopharma industry will improve and de-risk development of injectable biopharmaceutical therapies and accelerate the preclinical research.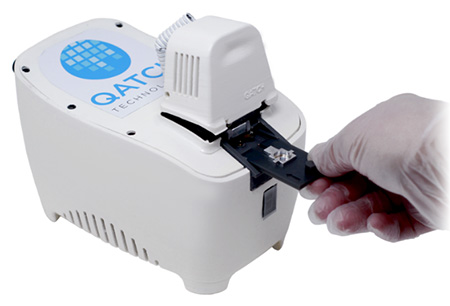 Funding
QATCH has received six SBIR/STTR grants, 4 Phase I and 2 Phase II, from NIH, NSF, and NIST, totaling approximately $3M. These grants have been instrumental in transitioning the sensor concept, which was developed in Zauscher Lab at Duke University, and modify it towards this commercial application, establishing the fully developed product (measurement instrument, sensors, and software), and scaling up the production.
SBIR/STTR Lessons Learned and Advice
Dr. Parlak shared the following lessons learned related to their experience with the SBIR/STTR program:
"For those coming from academia and are new to the SBIR/STTR programs, it is a good idea to seek assistance and feedback. Sources can include the technology transfer offices at their universities, the SBTDC and colleagues experienced with the funding mechanism.
It is also important to keep in mind that while SBIR/STTR funds technical projects, commercialization of product or service is the end goal. Commercialization requires a business mindset, often something new to scientists and engineers.
Try not to limit yourself to one commercial application of your platform technology or one federal agency when you first start the process. Communicate with anybody that may be remotely interested in your technology and its capabilities, and look into a variety of federal agencies. You will know when you see the right solicitation. When we pivoted our project to a sensor for drug discovery after some unexpected potential customer interactions, the concept was too risky for many institutions to fund. However, once we realized the fit with NIST and used that NIST SBIR Phase I to show the feasibility, we were in a better position to apply NIH and NSF and have our follow-on proposals funded."
SBTDC Resources
In 2016, Dr. Parlak became interested in commercializing the innovation that she had co-invented. She shared information on SBTDC's assistance to QATCH.
"My initial exposure to the SBIR/STTR programs was via attendance at an SBIR workshop delivered by the SBTDC in 2016. The training session provided guidance on how to start the process and the steps that would need to be taken to prepare a Phase 1 proposal. I founded QATCH just one month later and used the proposal writing guidance to start writing our first proposal. Over the following years, QATCH has also benefited from counseling sessions with SBTDC advisors, reviews of proposals and commercialization plans and participation in the SBTDC Graduate Technology Commercialization Summer Internship Program."
Looking Ahead
QATCH's single-test nanovisQ™ system is in the process of independent testing. In 2023, QATCH will be focused on moving the product further down the commercialization pathway, which includes demonstrating the system to interested biopharma companies and meeting with stakeholders and potential partners. In addition, as the technical risks for the single-test nanovisQ™ system are reduced, QATCH's technical team will be developing high-throughput versions of the nanovisQ™.
Company Contact: Zehra Parlak, zehra.parlak@qatchtech.com